The modern holiday season is an opportunity for people to turn their houses into magical functioning light displays by installing countless strings of colorful lights. Some streets even turn into grounds for friendly competition amongst neighbors to see who can set up the most impressive holiday display. From humble beginnings, this tradition has evolved to include various styles of lights, lawn ornaments, and even music in some cases. However, every display has one thing in common, lots and lots of sparkling lights! So, how did these displays evolve to such extremes?
By 1880, Thomas Edison had pretty much perfected the incandescent light bulb, and was looking for a way to advertise his invention. During that holiday season he installed several strings of incandescent lights around his Menlo Park laboratory compound. This was an impressive display for its time, and people riding the nearby railroad could see his compound and the inspiring display. Two years later, one of his business associates Edward Johnson put a string of 80 lights on a Christmas tree in his Manhattan home. This was also an advertising trick. This was the first time electric lights were used to decorate a Christmas tree.
In 1900, the first ever advertisement for Christmas lighting was displayed in a magazine by General Electric. These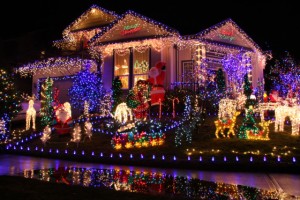 were very expensive at $12 a string, which translates to about $340 adjusting for inflation. This limited installation of these lights to the wealthy. Demand began to increase for the next twenty-five years, and the fifteen companies producing Christmas lights formed a conglomerate called the NOMA Electric Corporation. NOMA worked hard to use Edison's invention in unique ways to dazzle consumers, and they quickly changed the way people looked at Christmas lights.
Now-a-days installing Christmas lights is all about creating the largest flashiest display. This means that sometimes people install hundreds of strings of Christmas lights! This is a daunting task, but the benefit of having a beautifully lit house outweighs the often cumbersome task. One thing is for sure, Christmas lights have come a long way from that 80 light display on Edward Johnson's tree.
Reference:
http://gizmodo.com/5425395/christmas-lights-the-brief-and-strangely-interesting-history-of